And so the road trip with Sirius begins!
I recently returned from a fun trip that saw me cross a lot of the Midwest US on my way up to a small cottage town north of Toronto, ON. I stayed in campsites and did some bike riding and canoeing along the way, and was asked by TheDyrt to do some gear reviews in the process.
When I was researching places roughly 9 hours from home (my daily driving limit....normally), Harry S Truman State Park looked like a fun place to check out near the Ozarks. There are certainly more direct routes to Toronto, but the point of the trip for me was to try something new. In my case, I had never been to Missouri, Kansas, or Kentucky before and wanted to at least check out parts of states I had never been to before.
So back to the State Park. There are lakes plenty large enough for any water activities you're creative enough to think up, and the many campgrounds found scattered in the parkland offer a great balance of seclusion and variety.
I picked Long Shoal since it was near the water and promised some nice lakefront views. I was going to have to wait until the morning to find out if that promise was one the park could deliver on though, as I didn't arrive into camp until close to 2am. I parked, popped up the rooftop tent, popped in my ear plugs, and hit the sack. The next morning I awoke to a large lake and a kayaker enjoying their morning paddle. My morning was spent cycling the 4 miles just past the welcome center, where I enjoyed some more lakeside views from Raccoon Ridge.
It certainly was convenient to have a paved road the entire ride lined with dense forest trees. I wish I saw some deer along the way, but I can't always get so lucky. The heat was quite strong, so it was a nice coincidence that the ride was shaded and hugged the water's edge. I took in the lake views, but I didn't have long to enjoy the scenery, as I had another 8 plus hours in the car that day, since I wanted to get to Kentucky and spend my real play time of the trip checking out the Land Between the Lakes Recreation area.
I was treated to a nice sunset drive on my along I-70.
Land Between the Lakes, KY
As a Dyrt Ranger I get gear from time to test, and when they heard about this road trip and my bike and canoe plans, they loaded me up with some cool stuff. I had a Bike Rack from Saris, then some waterproof socks and a water hydration system for my bike from Showers Pass.
Land Between the Lakes is this National Recreation place that spans the Kentucky Tennessee state borders and offers a lot of campsites, lakes, boating, fishing, and biking options. Perfect!
I spent nights at campgrounds all over the park- among them Taylor Bay, Energy Lake, Cravens Bay, Twin Lakes, and Nickell Branch. Thank goodness there were lakes everywhere because the whole week it was about 90 degrees and humid. I was a walking mosquito offering. It was kind of awful really, since there was only 1 of those campsites listed above that had showers. At one point I think "wet dog" smell would've been an improvement, that's all I'm saying.
Sirius is not the biggest fan of getting in the canoe, but once I push off into the water, he's surprisingly chill in the boat. About a year ago we saw this loon together pretty up close canoeing in the UP around Wisconsin. This time around, it was a different fun time.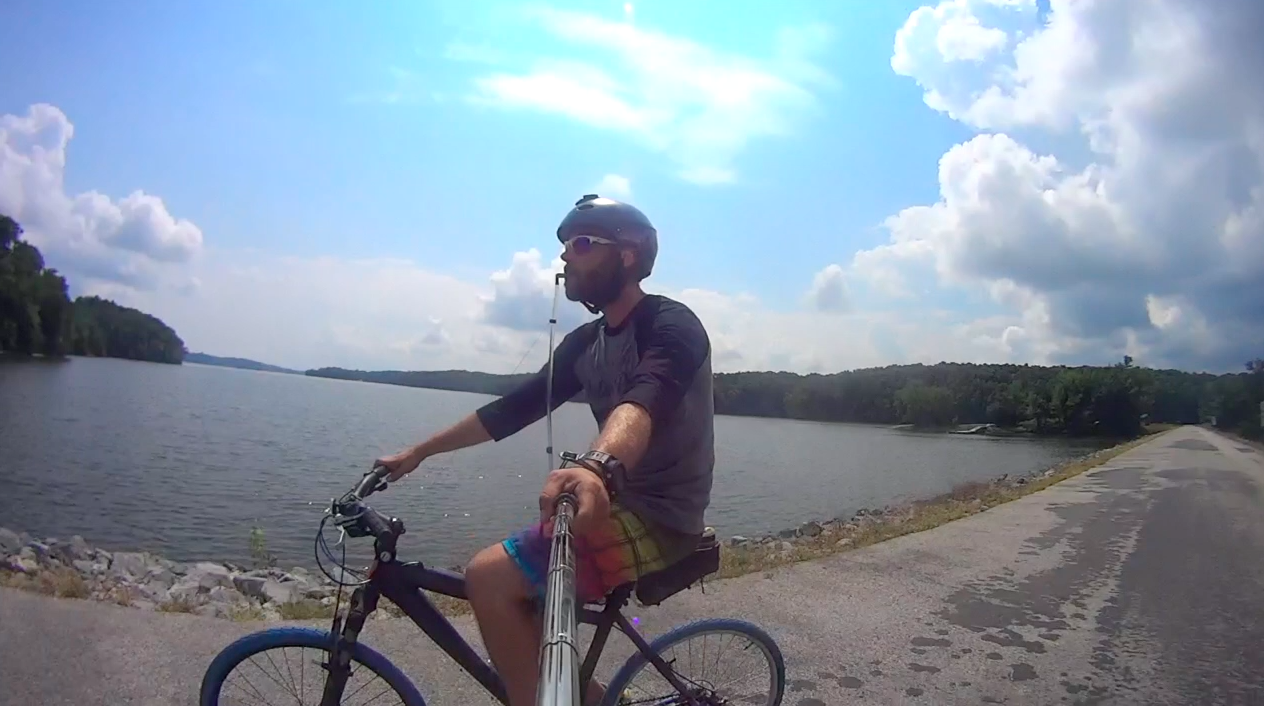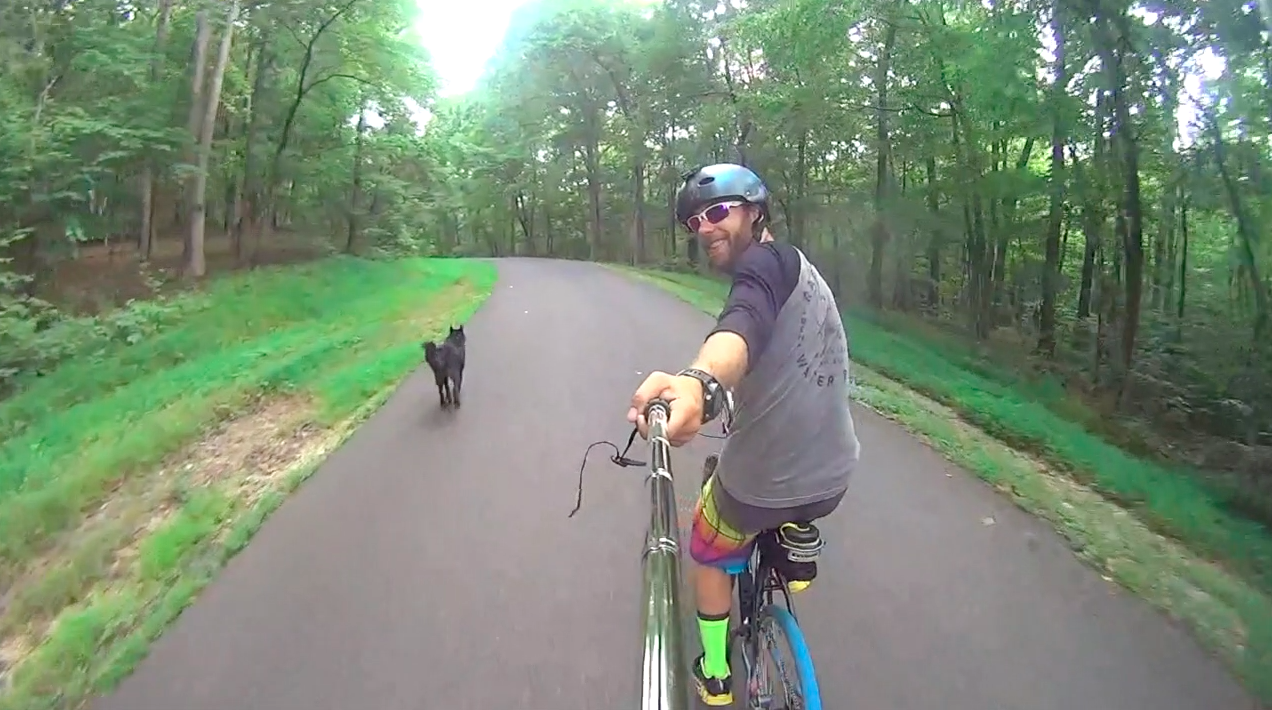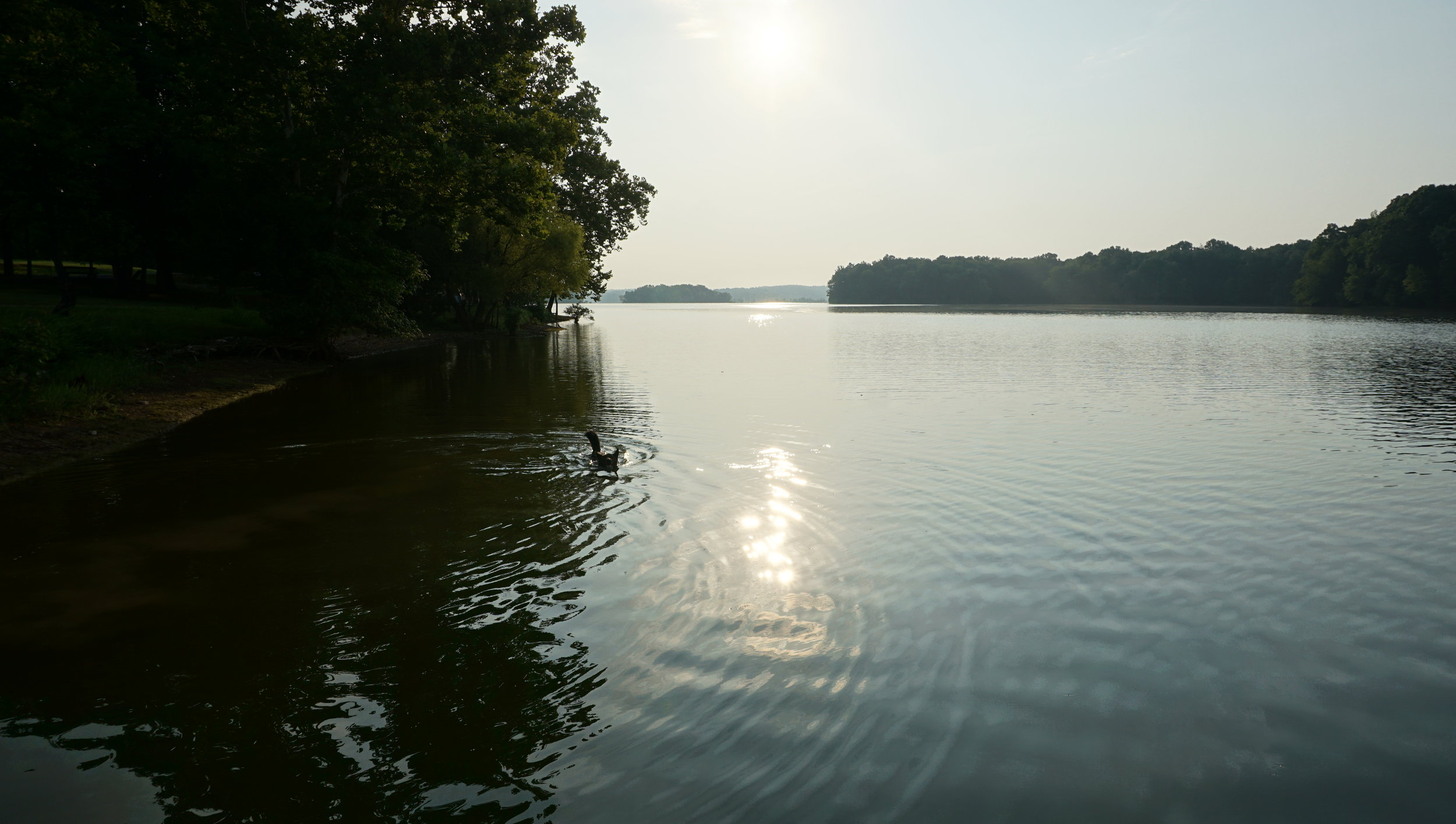 Besides at Energy Lake campground, you can rent canoes from the Woodlands Nature Station. I made sure to grab my hammock, my backpacking stove, water, and food and head down to the boat rental place with Sirius. The staff didn't mind that I wanted to put the dog in the canoe with me (there wasn't a backup plan) nor that I planned on taking the boat out to a random land outcrop to have lunch. I hugged the shoreline and used the trees to keep me shaded before my stomach told me "this is good" and I beached the canoe, set up the hammock, and boiled some water for some lunch. Besides some mosquitoes who were trying to get too friendly, I had the place to myself and I got to eat my now boiled Pasta in peace. Not a bad day and worth the sore shoulders the next morning from paddling. I always forget to stretch.
I've spent a few days camping in Land Between the Lakes and overall have to say it's been a fun, relaxing experience. When I picked this area to camp, I envisioned a lot of leisure bike rides with packed lunches checking out different hot spots. It definitely delivered on that, but at the 90 degree heat most of the week, it was also delivering a different kind of "hot spot" experience. It was just hard to stay cool and enjoy the week rather than focusing on staying hydrated. No matter, we still had fun.
The roads were excellent for cycling. noticed some proper road cyclists around the Woodland's Nature Station and one told me how often he comes here to train for cycling competitions because the roads are good and the traffic is low.
Check out Land Between the Lakes next time you're passing through the area – it's got a lot to offer. I simply recommend doing you're homework and picking a campground that suits your needs, as there's great variety depending on your recreation adventures.
I left the park for one more stop in KY at Big Bone Lick State Park (where I reviewed a beard comb, of all things) before making the push north to Toronto. After a great time visiting with some family up there, I did the return drive through Chicago, then the next night I made camp in Lafayette Park in Nebraska before making it safe and sound back to Boulder, CO.